Tackling the Problem Head On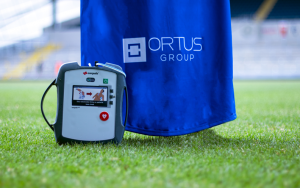 Leeds Rhinos invest in life-saving defibrillators from Associate Club Sponsors:
The Ortus Group
Automated external defibrillators (AEDs) are the only proven treatment for sudden cardiac arrest (SCA). An AED provides a shock which stunts the heart, allowing it to restore to its normal rhythm. When responding to someone having a SCA, time is of the essence and a quick response can mean the difference between life or death! An AED used in the first minute of SCA has a 90% survival rate. But for every minute that passes without the person receiving CPR and defibrillation, the chance of survival drops by 10%.
Leeds Rhinos have invested in four corpuls AEDs supplied by The Ortus Group. The AEDs are strategically placed around the stadium with the total focus on the safety of all spectators, staff and associates in and around the stadium. There are two AEDs fitted in the South Stand; with one located at the top of the stairwell and another positioned in the Central Lower Main Atrium. There are a further two AEDs fitted in the North Stand; one AED is visible on the main walkway between the Cricket and Rugby seating, with the other located at the top of the stairs – close to the Emerald Suite. The defibrillators are mounted on the wall and clearly identifiable by the white and red signs that state: Defibrillator – Heart Restarter. :
AEDs are designed for use by anyone, including members of the public. They are completely failsafe and will allow delivery of a shock if the person needs one. corpuls AEDs provide clear audio and visual instructions and completely guide you through saving a life. Should you find yourself in a position where a sudden cardiac arrest is happening close by, we advise that you follow the chain of survival:
1. Call for help – from people around you and dial 999
2. Start CPR compressions and send someone to get the AED
3. Turn on the AED, remove the patients clothing from their chest and follow the on-screen instructions to attach the pads and give the patient a shock via the defibrillator
4. Once medical responders are on the scene they will take over and take the patient to the hospital
Find out more about the corpuls AED  here.