'Cutting Edge' Defibrillators Fitted in Scottish Ambulances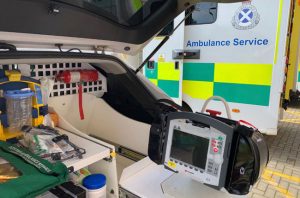 The latest generation of Corpuls3 defibrillators are being installed in ambulances across Scotland.
Following the Scottish Ambulance Service contract win for the Ortus Group, the installations have now started across the Country. The ten-year agreement will see the Ortus Group supply a full vehicle and aircraft replacement, maintenance and support contract to the Scottish Ambulance Service.
Managing Director, Craig Hall commented on the progress so far:
"We are delighted to supply the Scottish Ambulance Service with the Corpuls3 defibrillator. We hope that this product implementation will prove to be a huge success and aid the emergency responders to provide the optimum patient care in the challenging scenarios faced daily, especially in the demanding environments and climates of the varied Scottish landscape.
The roll-out for installation is well under way with over 120 devices now in use across the North Divisions. The plan after the winter break is to move the install teams to The South West division with 105 devices scheduled for installation from mid-January."
Click here to read the article on the BBC.
Find out more about the Corpuls3 here.