Weinmann ACCUVAC Pro Training Day – Yorkshire Ambulance Service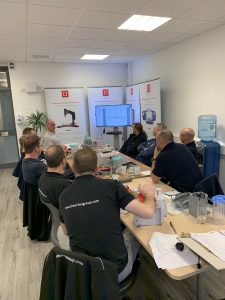 This week we welcomed the Clinical Engineering team from the Yorkshire Ambulance Service to our Worksop office. They were joined by Markus Müller from Weinmann, who conducted the latest product training and repair and maintenance requirements for the ACCUVAC Pro portable suction device.
Clearing a patient's airway of obstructions is the first life-saving measure in an emergency situation. The ACCUVAC Pro ensures that airways are cleared quickly. The handy, compact solution provides high suction capacity and simple operation to enable professional users to administer effective and proven treatment to the patient at the scene of an emergency.
Markus Müller delivered the training to the team, firstly demonstrating how to take the ACCUVAC Pro apart and easily reassemble again. The YAS team were hands on, utilising our workshop space and tools to replicate this for themselves. Further training was provided on the full product functionality, benefits and accessories. The team were given clear instructions and the process to follow for repairs and maintenance, including technical performance parameters, fault finding and battery maintenance.
Keith Uttley (Medical Equipment Engineer Supervisor, YAS) commented on the ease of use and the advantages this offers for his team, "It is a solid, robust unit with a low centre of gravity to stop it falling over. The unit has a milled motor rather than plastic, which has many benefits. Weinmann have kept it simple with the design inside meaning there aren't many components that could go wrong."
One of the main maintenance benefits of the ACCUVAC Pro is that it doesn't require regular servicing. Battery management is also minimal as the high performance lithium-ion rechargeable battery can be changed without tools at any time by emergency medical service personnel.
The day was a success for all involved, with the knowledge passed on to the YAS team who are now ready to replace all safety components of the devices if required. Mr Müller acknowledged this with his comments, "It was a great environment to work in. The team were very proactive and hands on, and all will be recognised as certified ACCUVAC Pro engineers."
All YAS participants will receive certification to identify them as qualified product technicians on the Weinmann international database.
Find out more about the Weinmann ACCUVAC Pro here.